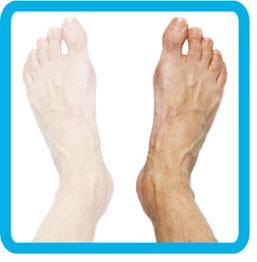 Phantom limb pain is a condition where pain is appearing to come from an area where an amputated limb used to be. This pain is often excruciating and has been described in various ways such as "burning, aching, or 'as if the limb was being crushed in a vice".
In 2008, an exploratory pilot study was published in the Journal of Complementary Therapies in Clinical Practice.
It was a 30 week study with 7 men and 3 women all having lower limb amputations and a history of phantom limb pain.  There were five phases to the study, which also involved teaching the techniques to the participants of the study.
The result:  "Each reflexology treatment made a highly significant difference and was effective in eradicating or reducing the intensity and duration of phantom limb pain."
Now long before the study was even thought about – I was practicing Reflexology in my private practice in London, England in the 1980's.  One day I received a call to see if I could help a young man whose left leg was amputated just below the knee.  For the purpose of this story I will call him Mike.
His story was incredibly touching – he was an athlete out for a fun weekend ride on his motorbike – when he lost control of the bike and crashed.  Mike was thrown off the bike, suffering extensive injuries to both his legs.   The doctors were able to save one leg only.
Mike went through a series of operations and could not believe that such an accident could have robbed him of his dreams of being an Olympic gold medal athlete.
His family had tried everything they could to help him to no avail.   Then, somebody suggested Reflexology, they don't remember who, but they decided to have one last try, and so I was called in to help.   It was now several years since his accident, and over time he had become seriously depressed.  When I got to see him he was actually on a suicide watch.
On my first appointment with him, I tried the method that is often taught in Reflexology schools, of working on his remaining right foot, and then working on the hand on the left side where his foot had been amputated.   After a couple of treatments, Mike reported no difference.
So I decided to change my plan and try something radical. I decided that I would apply Reflexology to his phantom foot.
After all his brain still believed that the foot was there and so did the nerves as they were sending pain signals to his brain – so I thought – why couldn't I also work on the phantom foot nerves and see if we couldn't send a different signal to the brain.
I must confess that I felt very silly, when I told Mike of my plan.  I remember that he just lay there with an empty stare and gave a small nod in agreement.
Traditionally when I work with Reflexology I start on the right foot, so I completed my usual routine on the right foot, and I literally called out all the areas of the foot that I was working on.  Then I moved over to the left foot – the one that was no longer there  – the one that was giving Mike so much pain.
I again called out all the areas of the foot as I worked them, the big toe, second toe, third toe, etc… the ball of the foot, the centre of the foot, the top of the foot, the heel, the instep and so on.
As I said I felt very foolish doing this, but I have learnt over the years, that nothing ventured, nothing gained.  I completed the foot by giving some gentle strokes, and at the end of the session, gently rested my hands on his real right foot and phantom left foot.  I waited for a couple of minutes and then asked how he was feeling.
A look of surprise crept over his face as he looked down at his foot.  He said he could feel nothing – puzzled I asked what that meant – was that a good or bad sign – he said I can feel no pain in my leg – in my phantom leg – for the first time in years, I can feel no pain there.
I can't tell you how I felt at that moment… we were both emotional  – anyway I visited him a few more times, and he reported that the pain did not return.
I heard later that he had taken up para Olympic sports and hoped to realise his ambition of winning a gold medal quite soon.  It is stories like this that make me passionate about Reflexology.