Reflexology Dated Daily Appointment
Book –

Now Available on Amazon

Take Charge of Your Schedule with a
Reflexology Appointment Planner
That will Revolutionize your Reflexology Practice
Client Booking and Follow-up Tracking.
You have a busy life! Perhaps you are a wife, mother with a hectic schedule,who fights to keep on top of all the business tasks necessary to run your own Reflexology practice, and maintain a thriving client roster. Well the struggle is over – I am here to help!
My name is Lauren Slade, and I have been a Reflexologist for 40 plus years, and the annual purchase of a store bought appointment planner to organize client appointments and to do lists, always seemed to fall short of meeting all my business needs. Before long there were post it notes and memos tucked in between pages to remind me of all the "little extras" that I as a self employed small business owner, needed to keep track of.
Designed by a Reflexologist for Reflexologists
To solve the daily battle with paperwork, I gave up on "standard" run of the mill day timers, and I decided to create my own version, specifically designed to be used by Reflexologists and wholistic health therapists.
My dated daily planner has appointments spaced 30 minutes apart. I also included specific areas on each calendar page to make notes and schedule / record client follow up calls, and to book new clients. Helpful reminders of daily To Do's will keep you organized and on track.
Take a look to see exactly what is included – this is just a small sample of the 420 pages
Appointment 2019 Dated Daily Planner
Includes BONUS section with a wide assortment of reference charts –
Foot Reflexology Map, Hand Reflexology Map, Baby Reflexology Map,
Infant Reflexology Map, Tongue Reflexology Map, Spine Reflexology Map.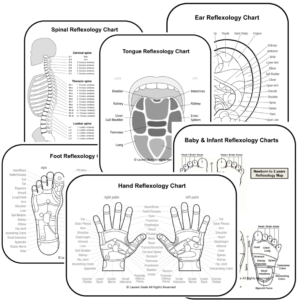 Suitable for Reflexologists, Massage Therapists, Aromatherapists, Herbalists,
Crystal Therapist, Reiki Practitioners – all Holistic Therapists
365 Days Jan – Dec 2019 – plus bonus days for December 2018 and January 2020.
ORDER TODAY
YOUR BUSINESS AND BOTTOM LINE WILL THANK YOU LATER!