// BLOG
September 1, 2016
When it comes to receiving medical treatment, more and more people are turning away from western medicine in order to reap benefits from alternative forms of therapy. Reflexology is one of these alternative types of treatment, and in this article, we'll attempt to give you a better understanding of why individuals may choose to visit a Reflexologist.
The American Medical Association has stated that a full eighty five percent of all forms of illness that are reported by individuals are due to a stress problem. Reflexology helps to correct these underlying stress problems so that the individual can get better. There are thousands upon thousands of nerve endings located in the feet, and to that end, the massage of the area can be immensely useful when it comes to helping the body to remove any pent-up-stress in the body. Once the body is completely relaxed by Reflexology treatment, practitioners maintain that the healing can finally begin. Circulation is improved during a Reflexology session and stress is lifted, allowing the body to begin a state of rest. (more…)
August 30, 2016
Just in case you are having a rough day (week, year, and life), here is a stress management technique recommended in all the latest psychological journals. The funny thing is that it really does work.
1.   Picture yourself lying on your tummy on a warm rock that hangs out over a crystal clear stream.
2.   Picture yourself with both your hands dangling in the cool running water.
3.   Birds are sweetly singing in the cool mountain air.
4.   No one knows your secret place.
5.   You are in total seclusion from that hectic place called the world.
6.   The soothing sound of a gentle waterfall fills the air with a cascade of serenity.
7.   The water is so crystal clear that you can easily make out the face of the person you are holding underwater.
There!! See? It really does work.
You're smiling already.
August 10, 2016
Brazilian Toe Massage has been around for over 50 years.  Reportedly, there is one hospital in Brazil that offers nothing but this service as a way to facilitate healing of all illnesses.  It is one of the most effective techniques I've found for relaxation and release of stress.
The Brazilian Toe Technique offers therapeutic properties of zone, acupressure and meridian energy alignment.
For more information on Brazilian Toe Massage – visit www.BrazilianToeMassage.com – bonus gifts are waiting!
July 24, 2016
An amazing picture of Jamu the lion, receiving paw Reflexology.  Clearly she is a push over for Reflexology!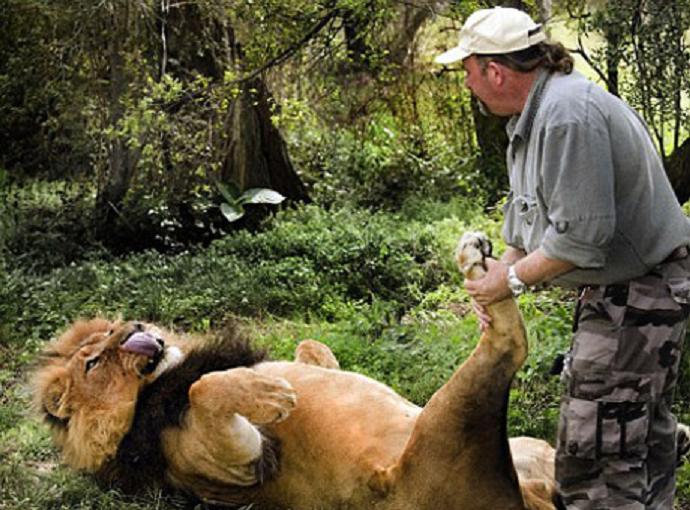 June 18, 2016
People are constantly working to make real improvements in the world. New waves of communication and better technology have lead to increased life spans and seemingly better lives.
While there are many positives when it comes to modern life, the downside is that sometimes people try to cram too many things into one day. In this fast paced world, stress may get the better of you and you might have trouble looking on the bright side.
Scheduling Downtime
You may feel like you should always be doing something productive. However, taking care of yourself is ultimately the most productive thing you can do. When you've given yourself proper rest and permission to do whatever you want once in awhile, you'll be better able to focus great efforts on the other things in your life that matter.
People that schedule downtime for themselves clearly have lower stress levels. Allow yourself a proper amount of time for rest. Get 6-8 hours of sleep at night and avoid the temptation to stay up doing something else with that time.
You should also allow yourself a portion of the day where you get to do whatever you want. Even when time is short, let yourself enjoy a few minutes of total relaxation sometime during the day to rejuvenate.
Scheduling proper downtime also gives you time for reflection. When you reflect on your life, you can concentrate on the meaning of it all. You'll be more likely to truly enjoy your journey. It's so easy to let life pass you by if you don't take some time to reflect.

Concentrating On Attitude
Thinking positively is something you can choose to do regardless of your circumstances in life. Everyone struggles with it from time to time, and you owe it to yourself to focus on having a positive attitude. (more…)